The enhanced website of the Actuarial Standards Board is completely accessible on all mobile devices and tablets. Users can add an icon to their device's home screen for convenient access to the mobile site.
To add the ASB icon to your home screen, please follow the below instructions.
Apple iOS: iPhone and iPad
iPhone
1. Click on the icon of a box with an arrow pointing up at the bottom of the screen.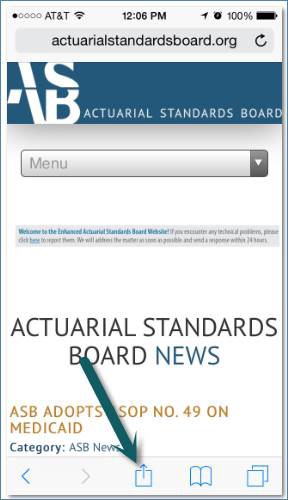 2. Click the icon marked "Add to Home Screen."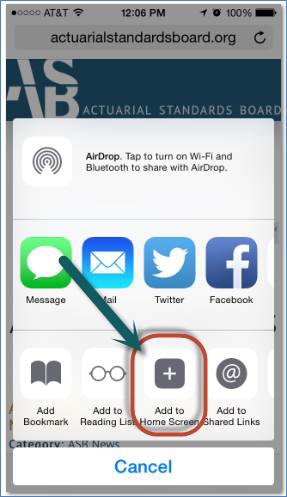 3. A page will pop up titled "Add to Home." Simply click "Add" and the icon will be added to your home screen.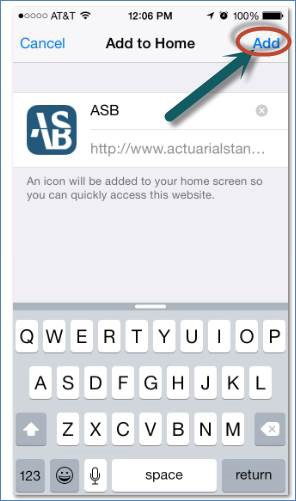 iPad
Android OS:
1. Click on the three-horizontal-line icon at the bottom of your screen.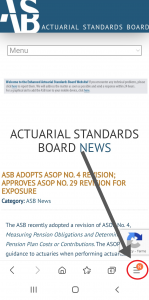 2. A menu will appear. Click on the plus icon that reads "Add page to."
3. A second menu will appear. Select "Home screen" or whichever option you prefer.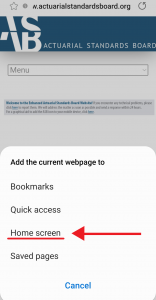 If you have any questions about the enhanced ASB website, including how to add an icon to your home screen, please email troubleshoot@actuarialstandardsboard.org.